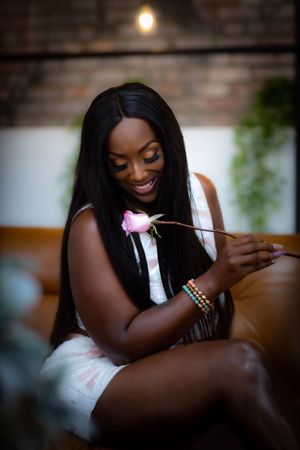 About Me
Singer Dancer Actress Extraordinaire … 
Alli' Starr wins the heart of discriminating  audiences each and every time she performs.  She masterfully belts out  song after song in a diversity of genres from R & B and Jazz Standards to Alternative Music, Dance Music, and  Rock. 
Alli' began her career at an early  age, breaking down Las  Vegas entertainment doors at just 16 years old.  Even then, she was determined and focused on becoming Las Vegas next triple threat. She has succeeded! 
Though based in Las Vegas, Alli' Starr is currently touring all over the  world. Alli' has opened up or sang backgrounds  with various artists including  Maxine Jones, Phil Perry, Tony Terry, Ronnie Laws, Bobby Womack, Ollie Woodson, Matt Goss, Marsha Ambrosius, Raheem Devaughn, Carl Thomas and many more. She has also headlined in her own right at international venues in several countries including Japan, China, Brazil, Korea, London and was recently selected as a featured singer for the legendary Barbara Streisand's backing group at the MGM Grand in Las Vegas. 
Despite her youth, Alli' has the presence  of a veteran vocalist, carrying herself with poise and professionalism normally seen in older artists.  Even before a note is lifted … before her voice floors  delighted listeners, people get a sense of the greatness about to unfold just by looking at her. That is her energy, and she always delivers. 
Alli' Starr is a dedicated entertainer who is constantly  perfecting her craft.  Simply put she's a "Rising Starr."  Follow it and see what happens!